The Wand® Handpiece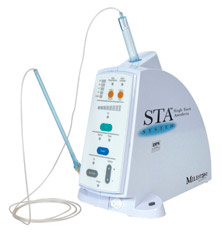 Milestone is driven by an underpinning mission to empower dental professionals with effective, painless injection solutions capable of delivering material financial and productivity efficiencies and enhancements, while improving patient comfort, convenience and safety.
The Wand® Computer Guided Anesthesia System
Milestone Scientific's award-winning The Wand® Computer Guided Anesthesia System combines patented, state-of-the-art computer-controlled injection technology with the dentist's training to achieve more precise injections, improved drug delivery and materially enhanced patient comfort levels.
Dental professionals worldwide enthusiastically agree that the The Wand® Computer Guided Anesthesia System is profoundly changing the practice of Dentistry. Learn why dentists and patients agree that:
"It's the best shot I ever had."
"It's the best injection I ever gave."
Did you know…

that an estimated 12 percent of U.S. adults have a fear of visiting the dentist? In fact, millions of Americans do not get the oral health care they need because of their fear of visiting the dentist. Dental phobias can range from minor to severe, many of which are correlated to fears of dental needles. The Wand Handpiece is making it possible for many patients to relax and experience less pain during their dental visits.
Frequently Asked Questions
Should I visit a Philadelphia dentist who uses The Wand Handpiece?
Yes! The Wand is changing the face of dental anesthesia and also changing the lives of many dental patients with heightened sensitivity to dental needles. You'll be more comfortable during your visit, which makes your dentist's job easier. All in all, The Wand is significantly improving clinical outcomes for patients.
What should I expect from an injection using The Wand Handpiece?
The Wand is pen-shaped and contains an internal needle that is retracted when not in use. When your Philadelphia dentist injects your gums, you will experience an expeditious delivery of medication that instantly numbs your gums and underlying nerves.
Will I need to follow any post-treatment instructions?
No, but just like traditional local anesthetic injections, you will likely experience numbness surrounding the injection site for a few hours after treatment.